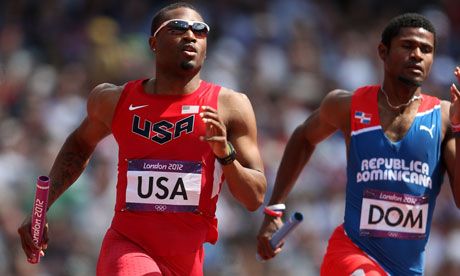 There have been a lot of great incredible performances at the 2012 Olympics, but for me, Manteo Mitchell's run in the 4×100 meter relay tops the heap. A few steps into his portion of the relay he broke his leg. Rather than stop and destroy his teammate's dreams of gold, he kept running and pulled out a 45-second 100m.
As soon as I took the first step past the 200m mark I felt it break. I heard it. I even put out a little war cry but the crowd was so loud you couldn't hear it. I wanted to just lie down. It felt like somebody literally just snapped my leg in half.
I'm sure the adrenaline and excitement of the moment are what really kept him running. Still, he knew he had seriously injured himself, yet was able to stay composed and complete his leg of the event. Major props!